"Volunteers are not paid not because they are worthless
but because they are priceless."
That saying is never more appropriate than when discussing the supporters of Invest inME Research.


Let's do it for ME is a patient-driven campaign to raise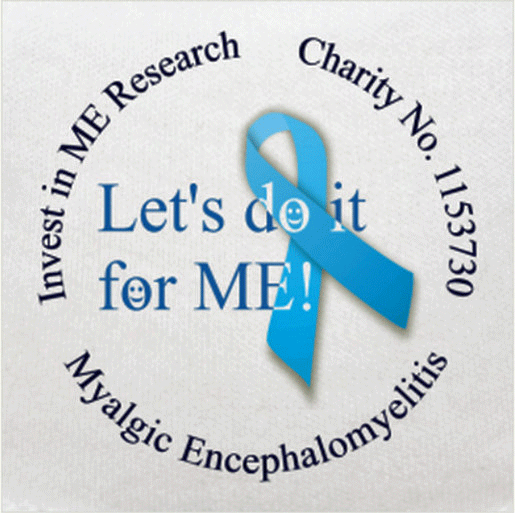 awareness and vital funds for a centre of excellence for translational biomedical ME research being proposed by Invest in ME Research. Such a centre will provide clinical assessment, diagnosis and treatment for patients and training and information for healthcare staff and work collaboratively with international biomedical researchers.
The campaign was set up and is run by ME patients who want the findings of high quality research to result in a better understanding of the underlying pathology and in the development of appropriate treatments.
Many people spend vast sums of money on unproven treatments for ME, often without any improvement being gained. This is entirely understandable but the only way to get treatments that help everyone safely via public health services is to get clinical trials performed. Biomedical research into of ME leads to better patient care and better doctor patient relationships.
Funding will usually follow discoveries but it is important that charities keep raising funds for strategic initial projects and encourage researchers to stay in this field.
The Let's Do It For ME campaign helped raise the £100,000 required for the charity's foundation project which was initiated at the University of East Anglia (UEA) as part of our efforts to establish a Centre of Excellence for ME - click here.
The charity's upporters have helped raise over £2 million for biomedical research into ME and associated meetings, research meetings, collaborative initives and advoccy.
Together with our supporters we are trying to improve the future for people with ME and their families.
The Let's Do It For ME team has achieved an enormous benefit for this patient community through imaginative ideas, selfless efforts, dedication and positivity - a Can Do approach to a disease where so many before have been content to allow no progress to be made.
It has been patients and carers who have made things happen, have made a difference - long before it became fashionable to demand that patients became onvolved in research.
Over the years we have been able to gauge the progress being made via the work done during the Invest in ME Research International Biomedical Research Colloquiums in London, whilst inviting and coordinating the research community in order to come together to expedite discovery with research into ME.
Whilst still too slow one wonders what would have happened had these meetings not occurred and the had the research networks not been facilitated and formed.
The charity could not have done this, or initiated a programme of research culminating in the only clinical trial for ME in the UK, without the amazing efforts of our supporters.
It is because of you, the patients and carers (and friends and relatives), who have campaigned for change and forced action to be taken.
It is the Let's Do It For ME spirit.
Empowerment of patients and their families comes from action, a Can Do approach and positive campaigning.
The name says it all - Let's Do It For ME!
http://www.ldifme.org
---