Invest in ME Research International ME Conference 2007
The charity's International ME Conference for 2007- #IIMEC2 - was our second annual international conference for ME and was held on over two days - 1st and 2nd May, 2007 in London and began ME Awareness Month 2007.
The conference was attended by presenters and delegates from 12 countries, from Europe, USA, Canada and even South Korea.
The charity decided to make this a two-day conference - with themes for professionals on one day and patients on the second day.
This also allowed increased networking opportunities and potential for one of the charity's main objectives - international collaboration between researchers.
The conference carried full CPD-accreditation.
1st May - ME Awareness & Support Conference Day - consisted of a series of group presentations and was designed for healthcare professionals, people with ME and their carers and ME Support groups with a view to working together.
2nd May - Professionals Conference Day - was the formal presentation day for healthcare professionals - doctors, paediatricians, nurses, researchers, students etc. as well as people with ME and their carers and ME support groups.
The conference aimed to educate and provide current information to healthcare professionals (GPs, paediatricians, nurses) and researchers and to educate the media and politicians involved in establishing news or debate regarding healthcare.
The series of lectures focused on treatments, care and medical information and research and provided a broad range of valuable information for all.
The conference provided a chance to hear the latest news on ME from the most prominent speakers within the ME community - in ME Awareness Month 2007.
Good and useful connections were made - researchers discussing collaboration; ME Support groups discussing joint ventures and campaigns; carers and parents sharing experiences.
A wonderful atmosphere was present during both days of the conference and many travelled from afar.
The charity published its first Journal of IiME, which also served as a conference brochure, and produced a DVD of the conference (though later the videos of the presentations have been made available here online).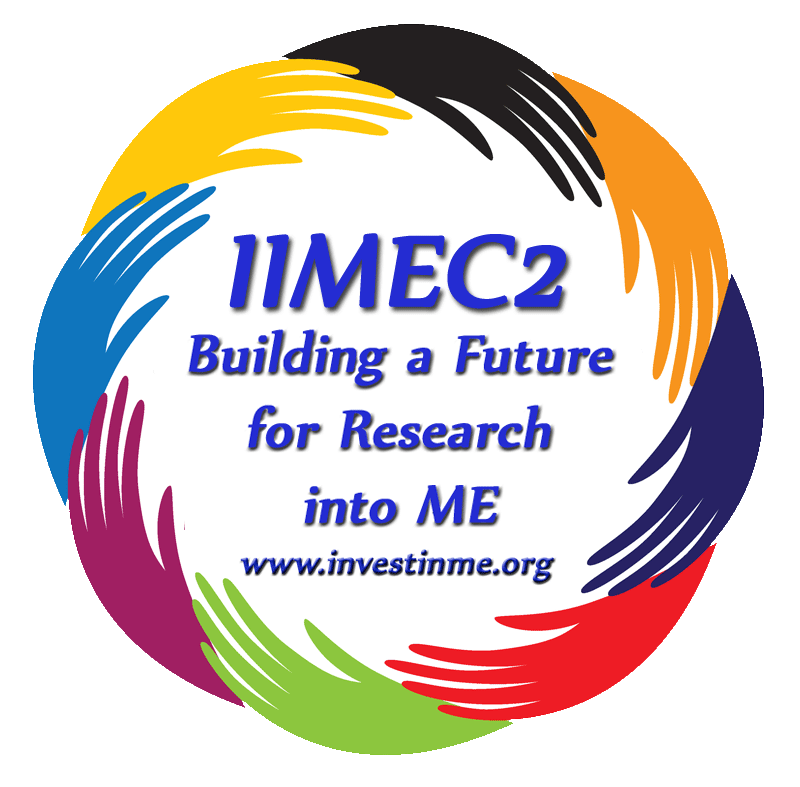 Dr Ian Gibson
Former Dean of Biological Sciences, UEA
Dr Ian Gibson is the former Labour MP for Norwich North. Dr Gibson worked at University of East Anglia for 32 years, became Dean of the School of Biological Sciences at UEA in 1991 and was head of a cancer research team and set up the Francesca Gunn Leukaemia Laboratory at UEA.
In 2011 Dr Gibson received an honorary doctorate of civil law from UEA.
A scientist, politician and academic - Dr.Ian Gibson is uniquely qualified to comment on how science and politics have become intertwined.
Other Links
Dr Bruce Carruthers
Dr Bruce Carruthers
Dr Bruce Carruthers graduated from Kodaikanal International School in India before moving to Canada to study at his father's alma mater, Queen's University, Ontario. His excellence was quickly recognized when he graduated in medicine as a dual gold medalist in Surgery, and Obstetrics and Gynecology.
Following an internship at the Charity Hospital in New Orleans and a residency at the Hospital of the University of Pennsylvania as a Research Fellow of the American Diabetes Association, Dr. Carruthers settled with his family in Vancouver.
He earned a Fellowship of the Royal College of Physicians and Surgeons of Canada with the specialty of Internal Medicine.
For many years Dr. Carruthers was an Assistant Professor and a Medical Research Council of Canada Scholar, lecturing and carrying out research in diabetes and metabolic disorders in the Faculty of Medicine at the University of British Columbia.
From 1978 until his retirement, Dr. Carruthers had a private practice as a Consultant in Internal Medicine, with focus on diabetes and metabolic disorders and later, Myalgic Encephalomyelitis (ME). His compassionate nature and adept care improved the quality of life of his patients.
Throughout his outstanding medical career, which spanned more than fifty years, Dr. Carruthers treated more patients inflicted with ME than any other doctor in Canada.
Other Links
Professor Malcolm Hooper
Professor Malcolm Hooper
Professor Malcolm Hooper is Emeritus Professor of Medicinal Chemistry, University of Sunderland and chaired many of the initial Invest in ME Research International ME Conferences.
Professor Hooper is an internationally-renowned expert on ME/CFS and a tireless campaigner for patients' rights.
Professor Hooper has previously chaired Invest in ME conferences and participates in The Hooper Interviews - interviews with conference speakers at the Invest in ME Conference.
Professor Hooper graduated from University of London and had held appointments at Sunderland Technical College, Sunderland Polytechnic and the University of Sunderland, where he was made Emeritus Professor of Medicinal Chemistry in 1993.
He has served at many UK universities as well as in India and Tanzania.
He has inaugurated links with Indian research institutions and universities and celebrated 25 years of productive and on-going links which have, particularly, involved the design and development of new drugs for tropical diseases and an exploration of natural products associated with Ayurvedic medicine. He has published some 50 papers in peer-reviewed journals in the field of medicinal chemistry together with major reviews on the Chemotherapy of Leprosy, the Chemistry of Isatogens. Edited one book on the Chemotherapy of Tropical Diseases.
He acted as a referee for a number of important journals and served on one editorial board. He has served on committees of the Council for National Academic Awards (CNAA), the World Health Organisation (WHO) and the Science and Engineering Research Council (SERC).
Professor Hooper is a member of a number of learned bodies, including the Royal Chemical Society, the British Pharmacological Society and the Society for Drug Research (SDR), now renamed the Society for Medicines Research, where he has served on the committee for 12 years and served as Chairman for 2 years.
This involved the planning and organising of major national and international conferences. He was appointed Chief Scientific Advisor to the Gulf Veterans Association (GVA) and accepted by the Ministry of Defence (MoD) as their nominee on the Independent Panel established to consider the possible interactions between Vaccines and NAPS tablets.
He has also served on the Gulf Support Group convened at the Royal British Legion. His involvement with the GVA brought contact with Chronic Fatigue Syndrome/Myalegic Encephalomyelitis (CFS/M.E.) and related disorders. Gulf War Illness/Syndrome (GWI/S) has much in common with M.E./CFS.
He is Patron of the Sunderland and South Shields M.E. Association and a member of the Newcastle Research Group, which includes eminent physicians and scientists performing research in to CFS/M.E., where one recent aspect has been the identification of organochlorine pesticide poisoning being misdiagnosed as M.E./CFS. He has addressed meetings of the Pesticide Exchange Network and consulted to the Organo-Phosphate Information Network (OPIN).
He worked with the Autism Research Unit (ARU) at the University of Sunderland for over 20 years, leading to involvement in biochemical studies to offer help, support and treatment for people with autism. This has also lead to research and urine-analysis of Indolyl-Acroyl-Glycine (IAG), which is an unusual metabolite found in excess of 90% of people examined in different groups of GWV, M.E./CFS and Organo-Phosphate (OP) poisoning sufferers. He served on the General Synod of the Church of England from 1970 to 1980 and he is a Christian Lay Leader, Preacher and Teacher.
He is currently involved in three environmental campaigns: Toxic waste dumping, including campaign against sewage in the sea presenting to the Select Committee on Sewage Treatment and Disposal GWI/S, presenting to the Defence Select Committee M.E./CFS and OP/Pesticide poisoning
Other Links
Jane Colby
Jane Colby
Jane Colby is a former head teacher, a member of the National Association of Educational Inspectors Advisers and Consultants, co-author of the largest study to date of ME/CFS (Journal of Chronic Fatigue Syndrome 1997) showing that this condition is the largest cause of long-term sickness absence from school, and a medical and educational author for professional journals and patient literature.
As a member of the Chief Medical Officer's Working Group on CFS/ME, she played a major role in writing Chapter 5 of the subsequent Report (DOH 2002).
Dr Byron Hyde
Dr. Byron Hyde
Dr. Byron Hyde attended the Haileybury School of Mines and worked as a geophysicist. He then did premedicine in the Faculty of Medicine and University College, University of Toronto, obtaining a degree in chemistry and nutrition. He graduated in medicine from the University of Ottawa where he was the Director and Chief of the International Exchange Program for the Canadian Association of Medical Students and Interns (CAMSI). Dr. Hyde founded the International Summer School in Tropical Medicine. He interned at Hotel Dieu in Montreal, was a resident at St. Justine Hospital in Montreal and at the Ottawa Civic Hospital. He also studied in Munich at the University Kinderklinik and in Paris at the Necker Hospital for Children.
He was a research chemist at the Roscoe B. Jackson Laboratory at Bar Harbour, Maine, a leading world laboratory in immunological research. Following this, he was Chief Technician in charge of the Electron Microscope Laboratory in Toronto at the Hospital for Sick Children, followed by a similar post at the University of British Columbia. Dr. Hyde has authored a book on Electron Microscopy and two non-medical books.
Dr. Hyde has been a physician for 25 years and has performed charitable work as a physician in Laos and the Caribbean. He held the position of Chairman of the Ottawa Community Health Services Association, and is presently Chairman of The Nightingale Research Foundation. In 1984, Dr. Hyde began the full-time study of the disease process then known as Myalgic Encephalomyelitis (renamed in 1986 by Dr. Gary Holmes in the USA to Chronic Fatigue Syndrome).
He has worked exclusively with M.E./CFS patients since 1985. In 1988, Dr. Hyde organized an association and founded The Nightingale Research Foundation, dedicated to the study of Myalgic Encephalomyelitis / Chronic Fatigue Syndrome. He has also acted as Chairman of the 1990 Cambridge Easter Symposium and of the Workshop on Canadian Research Directions for Myalgic Encephalomyelitis / Chronic fatigue Syndrome in May, 1991, at the University of British Columbia. (the above was extracted from the Nightingale Foundation.)
Other Links
Dr Jonathan Kerr
Dr Jonathan Kerr
Jonathan Kerr qualified in medicine from Queen's University of Belfast (1987), and completed training as a medical microbiologist (1995). He has worked as a microbiologist in Belfast, Manchester and London, taking up post as a Consultant Senior Lecturer in Microbiology at Royal Brompton Hospital / Imperial College in June 2001, and then Sir Joseph Hotung Clinical Senior Lecturer in Inflammation at St George's University of London in 2005. His interest in Chronic Fatigue Syndrome (CFS) began during a study of the consequences of parvovirus B19 infection, when he showed that a percentage of infected cases developed CFS which persisted for several years. He is now the principal investigator in a programme of research in CFS. This involves development of a diagnostic test using mass spectrometry, analysis of human and viral gene expression in the white blood cells, and clinical trials of immunomodulatory drugs. Dr. Jonathan Kerr and colleagues at St. George's University of London reported in the July 27, 2005 issue of the Journal of Clinical Pathology that a preliminary study of 25 CFS patients and 25 matched healthy controls revealed abnormalities in 35 of 9,522 genes analyzed using microarray technology. Polymerase chain reaction studies showed the same results for 16 of these genes. The study, and its results, raises some important questions. The first of which pertains to the need for funding of microbiological CFS research. He leads a group of 5 scientists at St George's.
His research on gene expression has resulted in several published papers – including evidence of 7 distinct sub types of ME/CFS.
Dr. Kerr also runs a ME/CFS research program. He studied the consequences of parvovirus B19 infection in ME/CFS and showed that a percentage of infected cases developed ME/CFS which persisted for several years. He has reported 88 human genes whose dysregulation is associated with CFS, and which can be used to derive genomic CFS subtypes which have marked differences in clinical phenotype and severity.
Other Links
Professor Basant Puri
Professor Basant K. Puri
Professor Basant K. Puri is both a medical practitioner, working as a consultant at Hammersmith Hospital in London, and a senior scientist, working at Imperial College London. He is head of the Lipid Neuroscience Group at Imperial College and is the author of over 130 peer-reviewed medical and scientific papers and over 30 books.
Plenary Session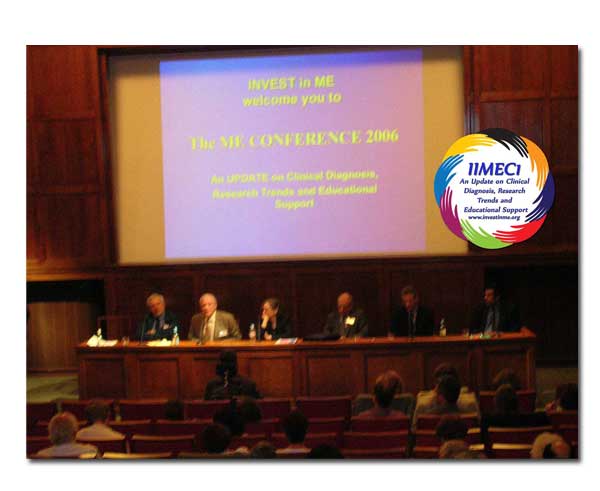 Plenary Session for IIMEC1
Chaired by Professor Malcolm Hooper Questions from the audience at IIMEC1.
Bonus Video - Norwegian TV
SEVERE ME on Norway's 'TV 1
---
From the IiMER Conference 2006 DVD - Severe ME as shown from Norwegian TV channel NRK's Puls programme.
Subtitles provided by Invest in ME.