10th International Biomedical Research into ME Colloquium 2021
26 - 27 May 2021
Due to the situation regarding the Covid-19 pandemic Invest in ME Research has been forced to reschedule the 2020 International Conference Week events to 2021. More details at this link
BRMEC10
The Invest in ME Research Biomedical Research into ME Colloquium 10 (#BRMEC10) will take place in London over two days from 26th - 27th May 2021.
The BRMEC* Colloquium is the largest biomedical research into ME colloquium in the world. Previous Colloquiums have had representation from almost thirty of the major institutes and organisations from over fifteen countries, including participation from USA's Centers for Disease Control (CDC) and National Institutes of Health (NIH).
The tenth Colloquium aims to increase international collaboration in research into ME and is a closed researchers' meeting with presentations from leading researchers and a major networking opportunity.
The Invest in ME Research Colloquiums have spawned a number of positive initiatives over the years and are the most successful research meetings for forming new research initiatives for ME with multiple collaborative initiatives being formed across continents.
The BRMEC10 research Colloquium in London will precede the IIMEC15 annual public international biomedical research conference on 28th May 2021.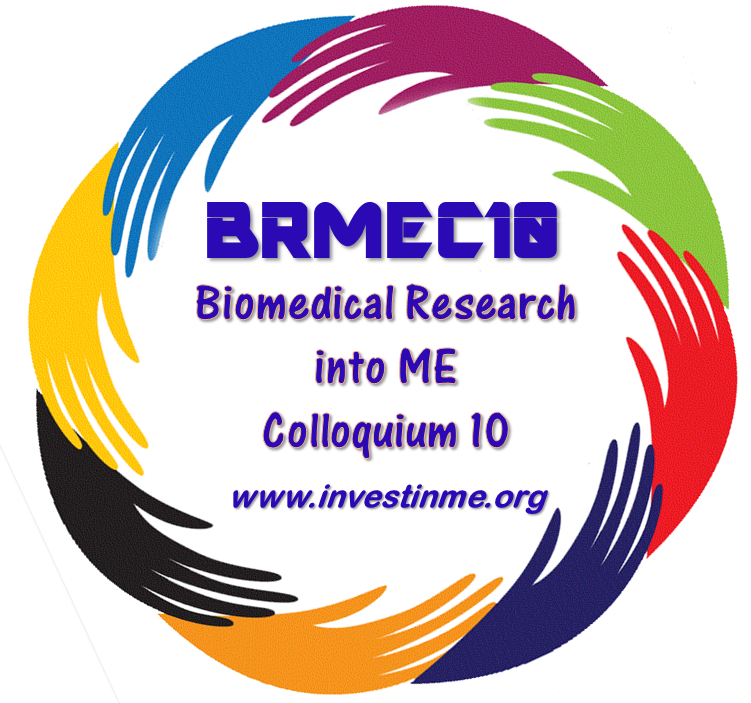 ---
Some of the institutes invited to participate in #BRMEC10
---
BRMEC10 Colloquium
---
Invest in ME Research Activity - Mainstreaming Research into ME
The charity does not only arrange and host research Colloquiums and Conferences.
Use our website references in the links below to view other work performed by Invest in ME Research.
Research
IIMER are facilitating a strategy of biomedical research into ME. The charity is funding important high-quality research projects for ME in the UK with international collaboration.
Currently the main hub of research is at Quadram Institute Bioscience and University of East Anglia ) in the Norwich Research Park and we have funded research at UCL. These projects involve a gut microbiota project in Norwich and B cell research in London.
Research Colloquiums
In addition to the International ME Conference the charity also organises an annual International Research Colloquium which attracts researchers from around the world in order to discuss experiences and open up collaborations in order to find answers for this disease.
The charity has also initiated the Thinking the Future network for young/early career researchers and organises an annual conference to bring new talent into the field.
Centre of Excellence for ME
Translational biomedical research - an iterative feedback of information between the basic and clinical research domains in order to accelerate knowledge translation from lab to bedside and back to lab again - allows translation of findings in basic research more quickly and efficiently into medical practice to produce more meaningful health outcomes and facilitate the sharing of repositories and research-based facilities and laboratories. This is the model IiMER are attempting to promote in the development of a UL/European Centre of Excellence for ME based in Norwich.
---
European Collaboration
Invest in ME Research is one of the founder members of the European ME Alliance (EMEA) – a grouping of charities and patient organisations working together across Europe. Now fifteen European countries collaborating.
European Initiatives
In order to expedite research and clinical expertise for ME the charity has initiated the European ME Clinicians Council and the European ME Research Group to bring together the best European to work together and form credible and productive biomedical research strategies which will provide the best and quickest route for possible treatment(s)/cure(s) for this disease.
Let's Do It For ME
Let's do it for ME! is a patient-driven campaign to raise awareness and vital funds for a UK centre of excellence for translational biomedical ME research, clinical assessment, diagnosis and treatment for patients, training and information for healthcare staff, based around the Norwich Research Park in the UK and aiming to work collaboratively with international biomedical researchers.
Contact Invest in ME Research
Success! Your message has been sent to us.
Error! There was an error sending your message.
Contact Us