Invest in ME Research
Christmas/New Year Fund Appeal Advent Calendar
---
Colloquiums/Conferences - Invest in ME Research
---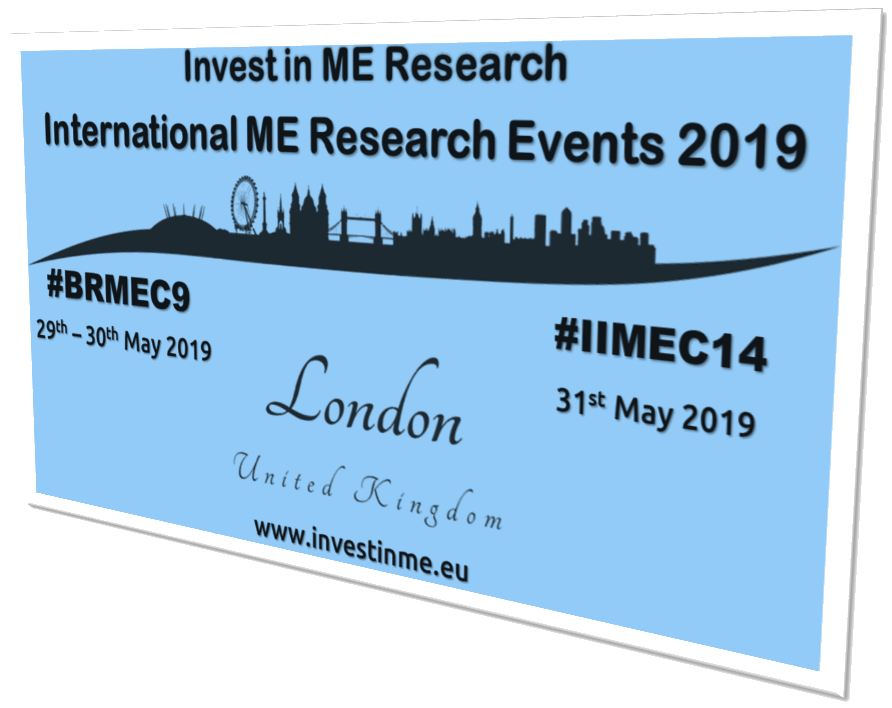 In 2019 Invest in ME Research will arrange our fourteenth International ME Conference and our ninth international biomedical Research Colloquium. These are cpd-accredited events which aim to educate about ME and facilitate the research and collaboration internationally.
The chairman of Invest in ME Research opened conference registration to the 2019 conference in this welcome message –

http://investinme.org/IIMEC14-chairman-message.shtml

---


From the Chairman's message –



"This is the fourteenth annual international ME conference that this small UK charity has organised - a fact which surprises us on many levels.
A surprise that we have managed to continue to arrange these conferences, and even increased their scope - despite relatively few resources.
A surprise that there really has not been the progress in research that we believed would and should have come after all these years.
A surprise that it has taken so long before any major national agency has taken this disease seriously - something that the National Institutes of Health (NIH) in USA are now doing.
A surprise that many other national research councils, especially in UK, are lagging so far behind and have ignored this disease for so long.

Yet we wonder where would be we now had it not been for the dedication and efforts of our supporters throughout these years who have made it possible for us to redirect research toward biomedical and change things to force a new direction for ME."

When we began our international conferences fourteen years ago we did not imagine we would still be arranging them in this way.
We believed progress would be more rapid.
It is a great disappointment that the opportunities that we presented and the offers that we made to engage were not taken up by establishment organisations as more rapid progress could have been made in tackling this disease at that early stage, rather than waste lives by doing so little.
Without the efforts of our supporters throughout these years the scene could have been quite different.






---


From the Chairman's message –

"These are not just mere words for us - not a fresh update to leaflets, not a soundbite to pacify ME patients. During all these years, the charity has consistently and unambiguously campaigned for dedicated biomedical research into ME and the necessary funding to achieve it."

We named the Colloquiums the "Biomedical Research into ME Colloquiums" as we wanted to make the point that we would not compromise.
Biomedical research was the way forward to make progress. IiMER have always maintained an undiluted consistency on the approach to research – never selling out the future of patients by allying with biopsychosocial (BPS) influences, or the establishment media centres that have caused so much harm.
The conferences were designed for professionals in order to increase the education of healthcare staff and influence the future treatment of people with ME. However, we have always ensured that the conferences were also open to patients and carers, believing that having patients, carers, researchers, doctors, nurses and even the media interacting with each other was a good thing.





---


From the Chairman's message –

"The charity has also facilitated the establishment of foundations for a sustainable strategy of biomedical research into this disease. Our plans to develop a Centre of Excellence for ME have captured the imagination and is clearly seen as the way ahead - and good progress on this foundation has been made, although with more resources the charity could expedite this for the benefit of all patients."

The Centre of Excellence for ME project began in 2010 and the charity was able to fund the first PhD studentship some years later.
This approach to research offers the best way forward for ensuring biomedical research into ME can be maintained and treatments developed.





---


From the Chairman's message –

"Collaboration has been at the heart of the charity's innovation since 2007 when our strategy of bringing the best researchers from around the world together was formed. The acceptance of this vision and collaborative strategy has matured to the point where now the NIH is taking a lead in forming centres and collaborative strategies.
The research Colloquiums now attract researchers from around the world to a meeting where they are free to discuss, share ideas and collaborate.
Collaboration and working together have been themes for our Colloquiums - with real international cooperation forming which can only lead to a better future for patients than would otherwise be the case."

The Colloquiums and Conferences have always had an international atmosphere – again reflecting our belief that international collaboration in research and treatment are necessary.
These approaches, developed many years ago, have now become commonplace.


---


From the Chairman's message –

"To support this strategy the charity has continued to arrange the international ME conferences that have provided a platform for education about ME - with DVDs produced of all the conference presentations which have formed a historical record as well as providing knowledge of the latest research."

The professionally-authored DVDs from the conferences contain all of the presentations, as well as pre-conference dinner speeches and interviews with presenters.
They also have allowed cpd points to be obtained by using the DVDs.
The charity also took on most of the cost of production in order that the (subsidised) unit price of the DVDs can be as low as possible for people with ME and their families.





---


From the Chairman's message –

"Our original conferences have now developed into a unique conference week in the heart of London with delegates and colleagues and friends coming from over twenty countries around the world.

ME Conference Week now includes -
-a conference for young/early career researchers;
-a dinner where young researchers can meet more experienced scientists;
-a two day closed research Colloquium where researchers can share ideas and discuss and plan and collaborate;
-a researchers' dinner where more discussions can be had;
-a pre-conference dinner which allows a special gathering of researchers, clinicians, media folk, politicians, ME support representatives,carers and patients to interact;
-a public international conference;
-a post-conference dinner which allows researchers and patient groups to discuss further after the main events have finished and plan the next steps;
-and an annual general meeting for the main European collaborative patient organisation."

#MEConferenceWeek2019 is now a full week of events and offers unique opportunities to make progress in a positive and friendly atmosphere.






From the Chairman's message –

"A small charity with wonderful supporters has achieved this. When people view charities as being "the largest" or "the main" organisations it is as well first to determine how those adjectives are measured. Is it by income, by number of staff, by the amount of media presence? Or by the amount of income spent on research, or on the least spent on admin and salaries, or on the achievements and ideas that actually are realised."

It is achievements that count - always - and hopefully also the ideas that actually are realised, where possible.
The supporters of the charity make everything possible.
They may not get the publicity they deserve but actions speak far louder than words, or awards.





---


From the Chairman's message –

"In the recent parliamentary debate on ME, Invest in ME Research produced a document which summarised the status of ME. It also laid out a bold vision for research - proposing that £20 million be allocated every year for five years to kick-start biomedical research and support the foundations that this small charity has laid. It is this vision that a small charity and dedicated supporters brings to the world of ME. "

We were happy to contribute to the parliamentary debate which originated from the early work performed by a supporter of Invest in ME Research who is a constituent of the SNP MP Carol Monaghan, who set up the debate. Being an independent charity allows a genuine approach to tackling the problems with ME that benefits patients and their families.


---

---



The chairman ended her welcome message with the following -
"As Dr Ian Gibson - our conference chair for all these years - has said "We can change things" But we do need to invest in ME research.
For our fourteenth conference, and our ninth international researchers' Colloquium, what better slogan to use at this point in time than the one that this small charity has uniquely been promoting for so long?

Invest in ME Research

"

---
---

---
Further Reading:

Back to our Advent Calendar page