Invest in ME Research
Christmas/New Year Fund Appeal Advent Calendar
---
Science, Politics,......and ME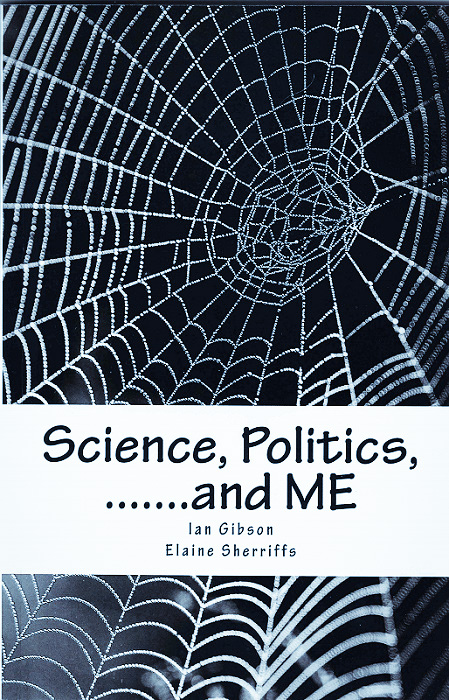 ---
Few diseases can have been so maligned by false information, so manipulated by an insidious establishment-controlled ideology, or so poorly dealt with by those holding the purse-strings for research into the disease, than myalgic encephalomyelitis (ME). This book examines a scandal in our generation - a scandal still being played out by corrupt, apathetic, inept or ignorant attitudes in governments and medical research councils and health services.
---
The above was from the trailer for the book Science, Politics,.......and ME - written by Dr Ian Gibson and Elaine Sherriffs.

---

It would seem strange to any objective observer to hear that a disease were the subject of influential forces dictating what science is used to investigate it, what guidelines are used to describe it, what classification is used to guide policies for it, and what treatments are recommended and offered to the people who suffer from it.
It might seem odd, but certainly scandalous, if a disease were subject to outside, and inside influences that affected the course of action taken to deal with it and yet caused patients to suffer because of these influences.
If the range of damaging influences extended in every aspect such as - - from the way that the disease is treated by government health departments,
- to the way the institutes responsible for clinical care develop guidelines for it,
- to the way that research councils fund only one type of research into it,
- to the way that media centres feed misinformation about it,
- to the disparaging way that the media has often portrayed it,
- even to the way that some organisations/individuals try to undermine the work of those attempting to change things.
For a disease such as ME one would think it an easy enough decision that appropriate research ought to be adequately funded in order that treatments can be developed, based on valid science. Simple, logical.

Yet politics has never been far from anything to do with ME. Any time money is involved then so is politics. Add careers and egos and self-interest and the web gets tighter.

It would take a complete web site to be able to explain the different forces at play when it comes to ME. Easy to identify organisations and individuals who are responsible for certain actions, harder for the uninitiated to know of some of the other forces involved that combine to maintain a status quo where little changes.

---


One of the best and most authoritative sources for information on the politics of ME is Margaret Williams.
Many of her articles have been placed on the IiMER web site and shared around the world.
However, she also has a site with all of the articles – http://www.margaretwilliams.me
The site has a useful Search box which allows one to discover information on anyone or anything. Professor Malcolm Hooper has been also a staunch advocate who continues to challenge the establishment about ME and who has, himself, been subject to character attack from some quarters. All part of the politics in play. The infamous and flawed PACE Trial also saw politics being played out as hundreds of thousands of pounds were spent to avoid releasing data to independent scrutiny after the trial was pulled apart after more rigorous analysis.
As it is Christmas then one gift which might be considered to give in order to explain some of the scandal which has continued for so long is the book mentioned above by Dr Ian Gibson and Elaine Sherriffs – Science, Politics,…….and ME. This easy to read book is a good reference for the politics that has affected science over the last decades and inhibited progress in tackling ME. It is important to understand the politics of ME and how the 'establishment' in most countries reacts to calls for support or change. Dr Ian Gibson led an inquiry into ME in 2006.
Without official funding, and at a time when unbiased and independent analysis on the way ME was being treated and reported on by the establishment organisations and media was lacking, Dr Gibson provided a checkpoint which attempted to get publicity and force change which would help ME patients. The Inquiry's report made several recommendations. That the then Labour government ignored the report, and its recommendations, will forever cast a shadow on the health minister at the time and on the government itself. Since that time Dr Gibson has been influential in assisting IiMER to get high-quality biomedical research established in Europe. This book examines a scandal in our generation - a scandal still being played out by corrupt, apathetic, inept or ignorant attitudes in governments,medical research councils, institutes of clinical care and health services.

The politics of ME is a subject needing far more space than is possible here.
However, thanks nowadays to social media, more and more of the evidence of political manipulation of this disease is becoming available more quickly to more people than was the case even a few years ago.