#InvestinMEresearch2023
We have written before that, without research, we remain in a world without the one factor that would overcome stigma, misinformation and flawed policies - scientific evidence.
This leads to non-existent or poor services, apathy and indifference, and sometimes negligence - and an easy excuse to maintain the ignorance.
Years of experience force us to acknowledge that waiting and expecting others to act or assemble the appropriate building blocks for progress in understanding and treating ME with any sense of urgency will be a long wait - no matter what appearances may be presented.
We have to continue to develop our strategy ourselves and demonstrate what, and how to do things.
IiMER chairman Kathleen McCall has stated previously that, in order to treat and cure ME, we need the infrastructure as well as funding.
To develop research we need a strategy - which is why we have proposed and funded the idea of a Centre of Excellence for ME in UK and Europe - a hub for development of research ideas and collaboration.
---
Sustaining and Developing the Centre for Research into ME
IiMER developed a five-year plan back in 2017 as a guide to developing the strategy of research - click here
This as one of the pages in our booklet WE published in 2019.
Our ambition and intent was to ensure the continuation of a joined-up strategy of research into ME and to increase the capacity along with international collaboration – via our well-established annual international research Colloquiums and via the network of European researchers forming the European ME Research Group (EMERG).
Although a small charity we wanted to establish at least three new PhDs per year and post-doc positions in a world-class research park in Norwich.
The charity has now funded five PhDs, continued the research Colloquiums – and expanded them to add a Young/Early Careers Research Meeting.
The charity has supported and helped develop EMERG (with researchers and clinicians) with meetings in London and Amsterdam.
In 2020 the pandemic came along and disrupted much of this.
But now we try to resume – thanks to great supporters.
The only UK clinical trial for ME will resume in 2023.
The strategy is to make as much use of the opportunities presented by the trial as possible as this provides for building capacity, bringing in new researchers and expertise into the field, and adding on more research as part of the total project work.
Additional projects and funding are being added – see this recent update, with other benefits include development of robust outcome measures. We will have more news of this next year.
Invest in ME Research Postdoctoral Fellowship
Together with Quadram Institute, the first Invest in ME Research Fellowship has been established.
This was announced recently via this Press Release .
As Professor Carding of Quadram says "his is an important step in building continuity to the ME research we are doing and will provide valuable scientific support for the upcoming RESTORE-ME clinical trial".
The value of a UK/European centre of excellence for ME is clear and it is notable that this has been developed by patients and carers and a forward looking research institute and university.
What is also important when considering making progress is that one does not have to reinvent what has already been set up to develop capacity and expertise.
Likewise, there is little point in funding odd, disparate projects that are not connected to a strategy of research.
Instead the existing research base and the new ideas and research being generated to support a strategy of research should be supported with additional funds. This is how we see that the urgency that is required for research into ME can be addressed.
The wide expertise in the research park is being utilised by the research team bringing in new expertise and knowledge, as well as raising more and more awareness of ME.
Quadram and fellow EMERG researchers have been involved in workshops with NIH.
Quadram has developed a Best Practice in Microbiome Research.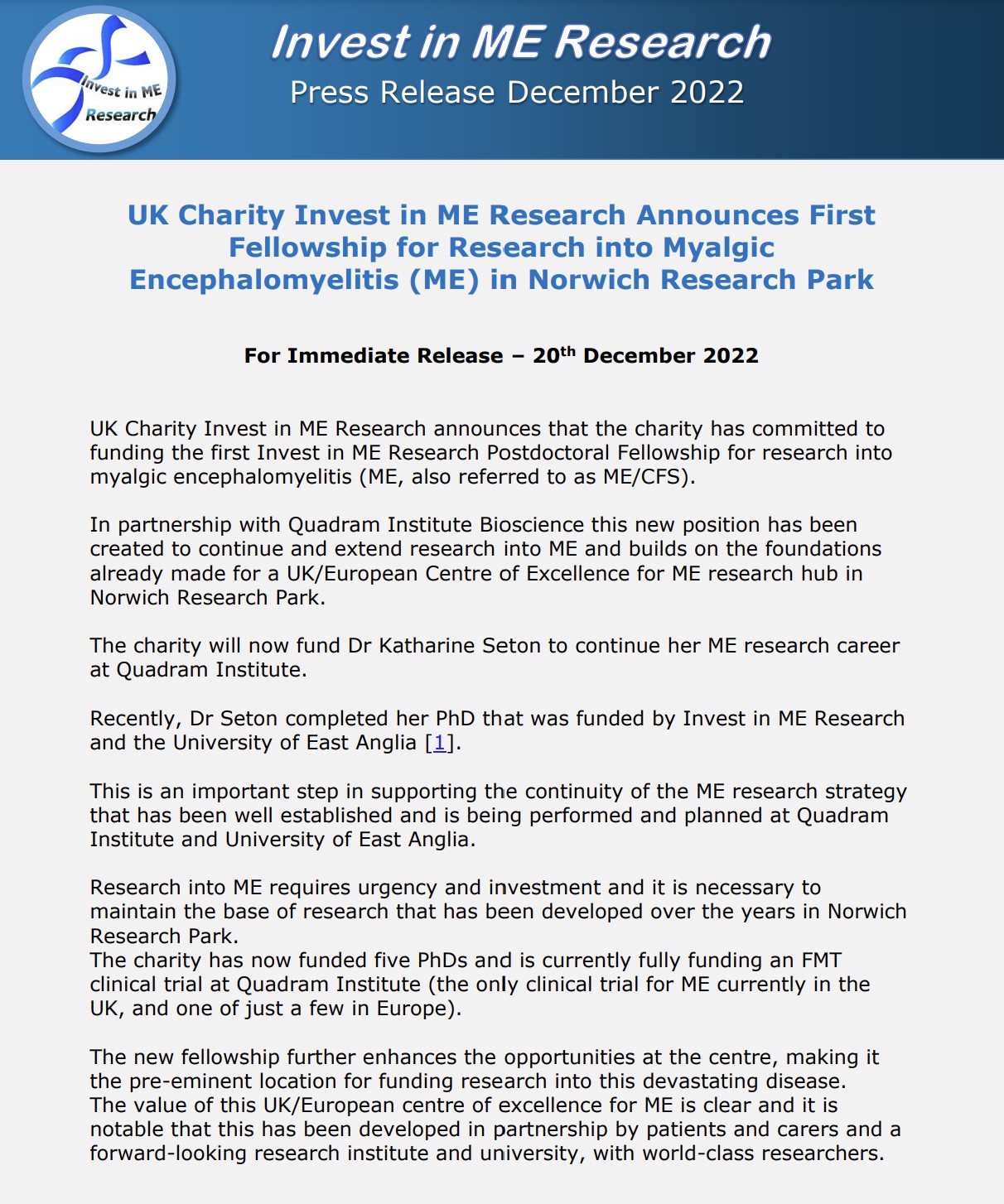 ---

Norwich Research Park – one of the largest research parks in Europe – continues to provide the ideal environment for further investment in research into ME and is the obvious location for major investment.

The charity looks to continue funding the centre and the collaboration within EMERG and we will be arranging supporting events around this.
With our colleagues in the European ME Alliance we hope to increase advocacy and support more research in 2023.
We invite support to help us continue to build on the above elements which will facilitate rapid progress in improving research and treatment of ME - in the absence of any realistic national strategy coming forward.
---
Further Information
Our strategy has been to concentrate, as best as we can, on setting up some of the key building blocks that would create sustainable and permanent change in how ME is researched and treated.
finding, funding and facilitating biomedical research into ME in a variety of ways
creating solid foundations for a research programme on ME
solving scientific questions relating to ME
finding treatments that are based on research evidence
raising standards on all levels of patient care
facilitating European and international collaboration