Invest in ME Research Conference Sponsorship
We would like to thank the following sponsors for their support for International ME Conference Week 2023.
Invest in ME Research is run by volunteers (patients or parents of children with ME) with no salaried staff and overheads are kept to a minimum to enable all funds raised to be used for supporting the charity's strategy.
We are a small charity but with supporters who have big hearts - and a determination to get the best possible research to be carried out to find the cause of myalgic encephalomyelitis and develop treatments.
In this determination we are joined by our sponsors - and we are very proud and honoured to have their support.
Read more below -
Sponsors of the 15th Invest in ME Research International ME Conference 2023
IMET - Irish ME Trust

Once again we would like to thank and acknowledge the continued support from the Irish ME Trust (IMET).

IMET has helped with every conference that IiMER has arranged and this year will be no different.
They have been wonderful colleagues since 2006 - initiating the European ME Alliance (EMEA) which is now representing seventeen countries.

IMET also have a stake in the RESTORE_ME clinical trial due to their previous donation to our biomedical research fund.

Great friends, great partners.

Open Medicine Foundation

Invest in ME Research are pleased to announce that Open Medicine Foundation has made a very generous donation to support Invest in ME Research in arranging the 15th International ME Conference in London in June. OMF will again have a table at the IiMER conference, this time in Hinxton , at the Wellcome Genome Campus near Cambridge.

Linda Tannenbaum, Founder & CEO/President of Open Medicine Foundation is no stranger to the IiMER conferences.
Linda has been invited to all of our Colloquium and Conference events over the last 10 years and many collaborations with OMF researchers have been made at the IiMER events.
IiMER recognised early on the potential contribution that OMF would be making to research into ME when we invited Linda to give one of our earliest pre-conference dinner presentations in 2013.

IIMEC8 Pre-Conference Keynote Speech

Riksföreningen för ME-patienter Sverige

We would like to thank RME Sverige for being a sponsor of the IIMEC15 International ME Conference 2023.

Invest in ME Research are very pleased to announce that EMEA Sweden partner RME (Riksföreningen för ME-patienter) made a donation to IiMER to help with the IIMEC15 conference administration. This underlined the great collaboration which has built up between IiMER and RME and all our Swedish friends.
IiMER greatly value the collaboration with RME which will again see a number of the top Swedish researchers qnd advocates being involved in the BRMEC12 and IIMEC15 events in 2023. The magnificent work being performed by RME to encourage and facilitate biomedical research into ME in Sweden is seen to be an important part in eventually establishing the required research and treatment for ME.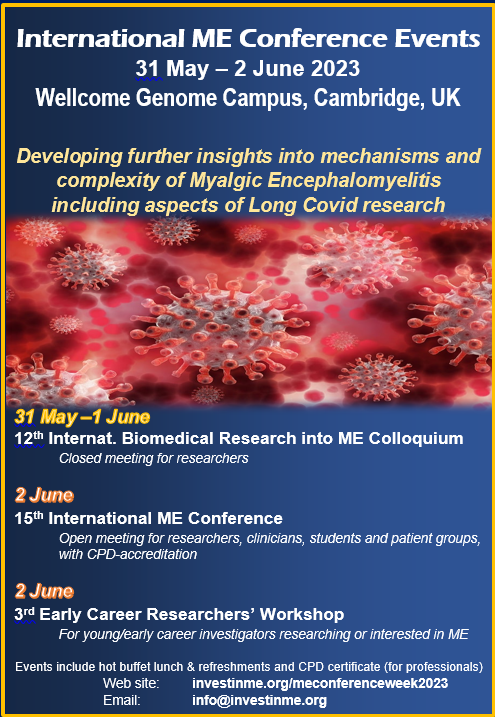 Invest in ME Research
Invest in ME Research welcome support in enabling us to create a major set of international cpd-accredited events that help to make progress in researching and treating this disease.
We have now organised fifteen International ME conferences and twelve Research Colloquiums and these events have an international reputation as events which can drive forward progress in this disease which will benefit patients and healthcare organisations and, ultimately, society.
The IIMEC* events create a friendly atmosphere with the focus on research, treatments and progress. The events attract researchers, professionals working in healthcare (GPs, nurses, paediatricians etc.), students, media personnel, politicians and ME patient groups, patients and carers from around the world.
It therefore provides unique opportunities to reach a wide range of interest groups, as well as targeted individual groups.
---
Please note that sponsorship decisions are at the discretion of trustees of the charity.
Please Contact Us if you would like to help us by sponsoring the conference.