BRMEC9 - 9th International Biomedical Research into ME Colloquium
#InvestinMEresearch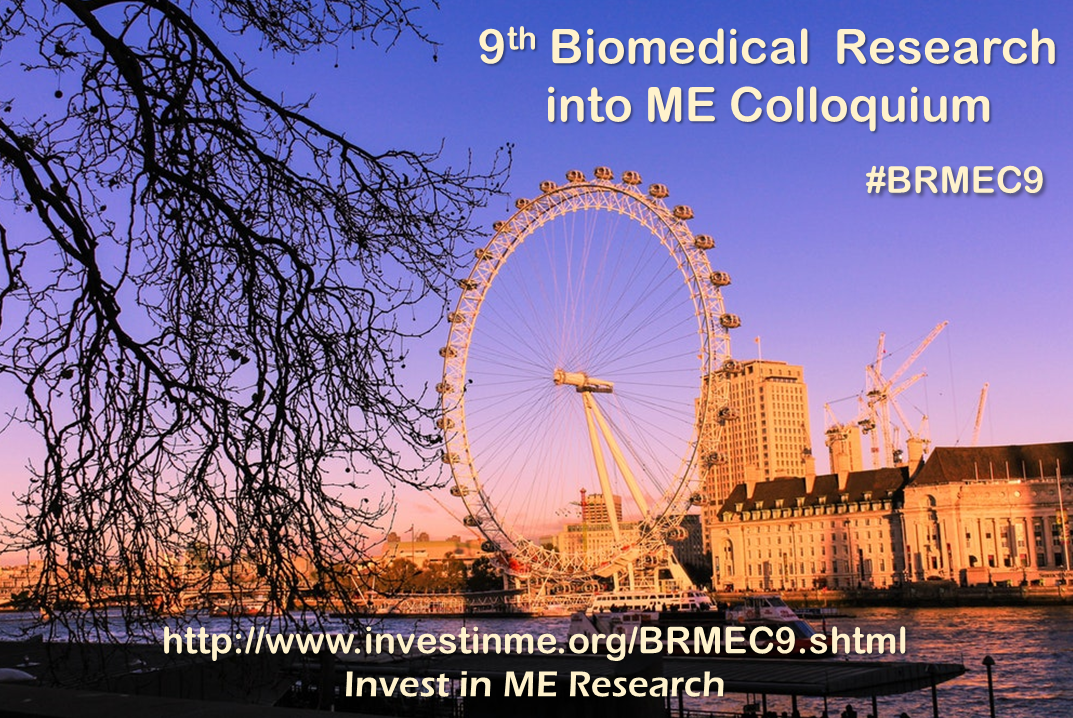 The 9th International Biomedical Research into ME Colloquium takes place in London in May - #BRMEC9.
Already the charity has exceeded all previous Colloquiums in the number of invitations sent to researchers around the world.
This colloquium will be our ninth since we originated the idea of bringing existing ME researchers together in the same meeting as researchers from other disciplines in order to increase knowledge and generate more ideas for biomedical research projects which can expedite the search for biomarkers and establish causality.
Together the BRMEC* colloquiums and IIMEC* conferences form a unique set of events which have been delivering results.
We supplement these with other events such as a researchers' dinner and pre-conference dinner with keynote speeches on subjects of interest, as well as providing opportunities for more discussions and networking for researchers, clinicians and patient groups. This year we have continued with another Thinking the Future - Young/Early Career Researchers Forum conference - a meeting that continues to develop an international network of young/early career biomedical researchers who can expand and provide innovative ideas for research into ME.
This all enhances progress in ME research and awareness and understanding.
This will bring together researchers who are collaborating on new ideas for research into ME.

Following the colloquium and conference events we will chair the AGM of the European ME Alliance (EMEA) - 15 countries involved in this and growing.
---
The colloquiums may not have had as much publicity as the public conference - but they are crucial for developing research into ME and have expanded in numbers of participants and objectives over those years.
They have been responsible for multiple projects, initiatives and momentum - not all directly related to IiMER's work - but very useful for other groups.
The collaborations formed have generated new interest and we feel these have been responsible for moving ME into the mainstream of research.
We bring together biomedical researchers from around the world to create a family of researchers who can work together for the benefit of people with ME - a family of researchers whom we can trust.
For a small charity these events have taken a great deal of time, effort and resources to organise and perform.
But we feel they are very much worth the effort.
The fact that this year's Colloquium is overbooked is testimony to the success of past Colloquiums, to the gradual acceptance of biomedical research into ME as the way to find treatnments for this disease and to our great supporters who have continued to help the charity move things forward.


The BRMEC* colloquiums are a collaboration of international biomedical research into ME - with the objective of making progress.
The only regret we have is that we do not yet have the means to do even more.
To all the researchers coming to BRMEC9 we say welcome and thank you for participating.
---
Past Colloquiums - click here


The BRMEC9 home page with agenda is here
---